Dwayne Johnson
Dwayne 'The Rock' Johnson
Dwayne Johnson @ the Xperience Message Board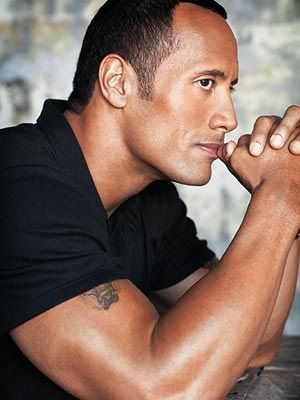 Name: Dwayne Douglas Johnson
Birthday: May 2, 1972, Hayward, California, USA
Nickname: The Rock, The People's Champion, Brahma Bull
Dwayne Douglas Johnson is an American actor and former professional wrestler. He is also known by his former ring name The Rock and is occasionally credited as Dwayne "The Rock" Johnson. His current film projects include Faster, Fast Five, and The Other Guys.
Johnson was a collegiate football player and, in 1991, he was part of the University of Miami's national championship team. He later played for the Calgary Stampeders in the Canadian Football League, but was cut two months into the season. This led to his decision to become a professional wrestler like his grandfather, Peter Maivia, and his father, Rocky Johnson. He gained mainstream fame as a wrestler in World Wrestling Entertainment (WWE), originally known as the World Wrestling Federation (WWF), from 1996 to 2004, and was the first third-generation superstar in the company's history. Johnson was quickly given a push in the WWF, first as "Rocky Maivia", and then as "The Rock", a member of the Nation of Domination. Two years after he joined the WWF, Johnson won the WWF Championship, and became one of the most popular wrestlers within the company's history for his engaging interviews and promos. You can find a full summary of his wressling career on our message board.
In 2000, Johnson made his literary debut by publishing his autobiography, The Rock Says. It debuted at number one on The New York Times Best Seller list and remained on the list for several weeks. Johnson is also an actor, and his first leading role, in 2002, was in The Scorpion King. For this film, he received the highest salary for an actor in his first starring role, earning $5.5 million. He has since appeared in movies such as The Tooth Fairy, Be Cool, Walking Tall, Get Smart, Race to Witch Mountain, Planet 51, and Doom.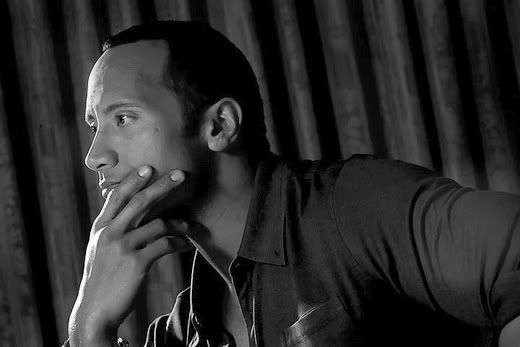 1. Racing Dreams (details only on IMDbPro)
2. Untitled Tomorrowland Project (details only on IMDbPro)
3. Kamile/Loyal Blue (details only on IMDbPro)
4. Other People's Wishes (details only on IMDbPro)
1. Protection (2012/II) (pre-production)
2. Journey 2: The Mysterious Island (2011) (pre-production)
3. "Transformers Prime" (2010) TV series (pre-production) (voice) …. Cliffjumper (2010)
4. Fast Five (2011) (filming) …. Hobbs
5. Faster (2010) (completed) …. Driver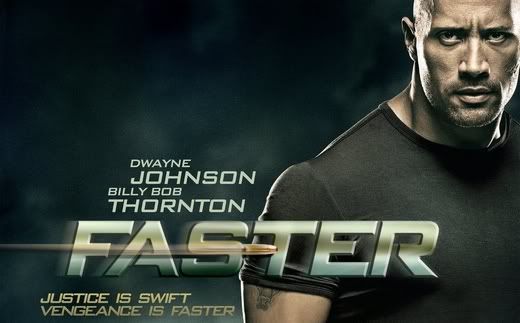 6. The Other Guys (2010) …. Christopher Danson
7. Why Did I Get Married Too? (2010) …. Patricia's Co-Worker
8. Tooth Fairy (2010/I) (as Dwayne 'The Rock' Johnson) …. Derek Thompson / Tooth Fairy
9. Planet 51 (2009) (voice) …. Captain Charles T. Baker
10. "Saturday Night Live" …. The Rock Obama (1 episode, 2009)
… aka "NBC's Saturday Night" – USA (complete title)
… aka "SNL" – USA (informal title)
… aka "SNL 25" – USA (alternative title)
… aka "Saturday Night" – USA (first season title)
… aka "Saturday Night Live '80" – USA (sixth season title)
… aka "Saturday Night Live 15" – USA (fifteenth season title)
… aka "Saturday Night Live 20" – USA (twentieth season title)
… aka "Saturday Night Live 25" – USA (twentyfifth season title)
– Gerard Butler/Shakira (2009) TV episode …. The Rock Obama
11. "WWE Smackdown!" …. The Rock (28 episodes, 1999-2009)
… aka "WWF SmackDown!" – USA (original title)
… aka "Friday Night Smackdown!" – USA (new title)
… aka "Smackdown!" – USA (new title)
… aka "Smackdown! Xtreme" – USA
… aka "World Wrestling Federation Smackdown!" – USA
– Episode #11.1 (2009) TV episode …. The Rock
– Episode #3.34 (2002) TV episode …. The Rock
– Episode #3.30 (2002) TV episode …. The Rock
– Episode #3.29 (2002) TV episode …. The Rock
– Episode #3.20 (2001) TV episode …. The Rock
(23 more)
12. Race to Witch Mountain (2009) …. Jack Bruno
… aka "Witch Mountain" – Japan (English title) (short title)
13. Get Smart (2008) …. Agent 23
14. Disaster! A Major Motion Picture Ride… Starring You! (2008) (uncredited) …. Action Star
… aka "Disaster!" – USA (informal short title)
15. WWE SmackDown vs. RAW 2008 (2007) (VG) …. The Rock
… aka "WWE SmackDown vs. RAW 2008 Featuring ECW" – International (English title) (complete title)
16. The Game Plan (2007) (as Dwayne "The Rock" Johnson) …. Joe Kingman
17. "WWF Raw" …. The Rock / … (5 episodes, 1997-2007)
… aka "WWF Raw Is War" – USA (original title)
… aka "Raw Is War" – USA (short title)
… aka "WWE Monday Night RAW" – USA (new title)
… aka "WWE Raw" – USA (new title)
– Episode dated 12 March 2007 (2007) TV episode …. The Rock
– Episode dated 24 December 2001 (2001) TV episode …. The Rock
– Episode dated 11 October 1998 (1998) TV episode …. Rocky Maivia
– Episode dated 25 May 1998 (1998) TV episode …. The Rock
– Episode #1.1 (1997) TV episode …. Rocky Maivia
18. Reno 911!: Miami (2007) (uncredited) …. Rick Smith, S.W.A.T.
… aka "Reno 911!: Miami: The Movie" – USA (complete title)
19. Gridiron Gang (2006) (as Dwayne 'The Rock' Johnson) …. Sean Porter
20. Spy Hunter: Nowhere to Run (2006) (VG) (as Dwayne 'The Rock' Johnson) …. Alex Decker
21. WWE: McMahon (2006) (V) (also archive footage) …. The Rock
22. Southland Tales (2006) …. Boxer Santaros / Jericho Cane
23. Doom (2005) (as The Rock) …. Sarge
24. WWE Day of Reckoning 2 (2005) (VG) …. The Rock – graphical likeness
25. Be Cool (2005) (as The Rock) …. Elliot Wilhelm
26. WWE SmackDown! vs. RAW (2004) (VG) (voice) …. The Rock
… aka "Exciting Pro Wrestling 6: SmackDown! vs. RAW" – Japan (English title)
27. WWE Day of Reckoning (2004) (VG) …. The Rock – graphical likeness
28. Walking Tall (2004) (as The Rock) …. Chris Vaughn
29. WrestleMania XX (2004) (TV) …. The Rock
30. WWE: The Stone Cold Truth (2004) (V) (also archive footage) …. The Rock
31. WWE $250,000 Raw Diva Search (2004) (V) …. The Rock
32. The Rundown (2003) (as The Rock) …. Beck
… aka "Welcome to the Jungle" – Australia, UK, USA (working title)
33. WWE Backlash (2003) (TV) …. The Rock
34. WrestleMania XIX (2003) (TV) …. The Rock
35. WWE Crush Hour (2003) (VG) …. The Rock
36. WWE No Way Out (2003) (TV) …. The Rock
37. WWE: Brock Lesnar: Here Comes the Pain (2003) (V) …. The Rock
38. Summerslam (2002) (TV) …. The Rock
… aka "WWE Summerslam" – USA (alternative title)
39. WWE Global Warning Tour: Melbourne (2002) (V) …. The Rock
40. WWE Vengeance (2002) (TV) …. The Rock
41. WWE WrestleMania X-8 (2002) (VG) …. The Rock
42. King of the Ring (2002) (TV) …. The Rock
… aka "WWE King of the Ring" – USA (poster title)
43. The Scorpion King (2002) (as The Rock) …. Mathayus
44. WrestleMania X-8 (2002) (TV) …. The Rock
… aka "WWF WrestleMania X-8" – USA (alternative title)
… aka "WrestleMania X-VIII" – USA (informal alternative title)
45. WWF No Way Out (2002) (TV) …. The Rock
… aka "No Way Out" – USA (promotional title)
46. Royal Rumble (2002) (TV) …. The Rock
47. The Scorpion King: Rise of the Akkadian (2002) (VG) (voice) (as The Rock) …. Mathayus
… aka "The Scorpion King" – USA (short title)
48. WWF Vengeance (2001) (TV) …. The Rock
49. Survivor Series (2001) (TV) …. The Rock
… aka "WWF Survivor Series" – USA (promotional title)
… aka "WWF Survivor Series: Winner Take All" – USA (alternative title)
50. WWF Rebellion (2001) (TV) …. The Rock
51. WWF No Mercy (2001) (TV) …. The Rock
52. WWF Unforgiven (2001) (TV) …. The Rock
53. Summerslam (2001) (TV) …. The Rock
… aka "WWF Summerslam" – USA (promotional title)
54. The Mummy Returns (2001) (as The Rock) …. Mathayus the Scorpion King
55. WrestleMania X-Seven (2001) (TV) …. The Rock
56. WWF No Way Out (2001) (TV) …. The Rock
57. Royal Rumble (2001) (TV) …. The Rock
58. WWF Armageddon (2000) (TV) …. The Rock
59. WWF Rebellion (2000) (TV) …. The Rock
60. Survivor Series (2000) (TV) …. The Rock
… aka "WWF Survivor Series" – USA (promotional title)
61. WWF SmackDown! 2: Know Your Role (2000) (VG) (voice) …. The Rock
… aka "Exciting Pro Wrestling 2" – Japan (English title)
… aka "SmackDown! 2" – USA (short title)
62. WWF No Mercy (2000) (TV) …. The Rock
63. WWF Unforgiven (2000) (TV) …. The Rock
64. Summerslam (2000) (TV) …. The Rock
65. Fully Loaded (2000) (TV) …. The Rock
… aka "WWF Fully Loaded" – USA (poster title)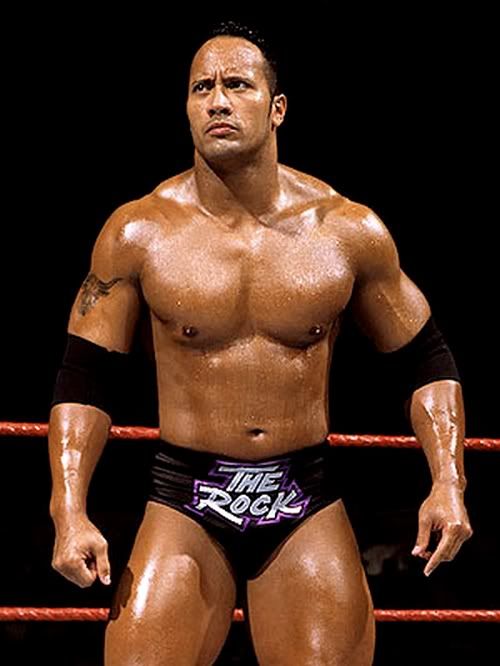 66. King of the Ring (2000) (TV) …. The Rock
67. WWF Judgment Day (2000) (TV) …. The Rock
68. WWF Insurrextion (2000) (TV) …. The Rock
69. WWF Backlash (2000) (TV) …. The Rock
70. WWE: The Rock – The People's Champ (2000) (V) (also archive footage) …. The Rock
71. WrestleMania 2000 (2000) (TV) …. The Rock
… aka "WWF WrestleMania XVI" – USA (alternative title)
… aka "WrestleMania XVI" – USA (alternative title)
72. No Way Out (2000) (TV) …. The Rock
… aka "WWF No Way Out" – USA (alternative title)
73. "Star Trek: Voyager" …. The Champion (1 episode, 2000)
… aka "Voyager" – USA (short title)
– Tsunkatse (2000) TV episode (as The Rock) …. The Champion
74. Royal Rumble (2000) (TV) …. The Rock
75. Longshot (2000) …. Mugger
… aka "Jack of All Trades" – USA (alternative title)
… aka "Longshot: The Movie" – Canada (English title)
76. Armageddon (1999) (TV) …. The Rock
… aka "WWF Armageddon" – USA (alternative title)
77. "WWE Sunday Night Heat" …. The Rock (7 episodes, 1998-1999)
… aka "Sunday Night Heat" – (original title)
… aka "WWE Heat" – USA (new title)
… aka "WWF Sunday Night Heat" – USA
– Episode dated 12 December 1999 (1999) TV episode …. The Rock
– Episode dated 14 November 1999 (1999) TV episode …. The Rock
– Episode #2.10 (1999) TV episode …. The Rock
– Episode #2.5 (1999) TV episode …. The Rock
– Episode #2.4 (1999) TV episode …. The Rock
(2 more)
78. Survivor Series (1999) (TV) …. The Rock
… aka "WWF Survivor Series" – USA (promotional title)
… aka "WWF Survivor Series: Triple Threat" – USA (alternative title)
79. WWF No Mercy (1999/II) (TV) …. The Rock
80. WWF Rebellion (1999) (TV) …. The Rock
81. WWF Unforgiven (1999) (TV) …. The Rock
82. Summerslam (1999) (TV) …. The Rock
… aka "WWF Summerslam '99" – USA (alternative title)
83. "WWF Superstars" …. Rocky Maivia / … (3 episodes, 1996-1999)
… aka "WWF Superstars of Wrestling" – USA (original title)
– Episode dated 15 August 1999 (1999) TV episode …. The Rock
– Episode dated 1 December 1996 (1996) TV episode …. Rocky Maivia
– Episode dated 27 October 1996 (1996) TV episode …. Rocky Maivia
84. Fully Loaded (1999) (TV) …. The Rock
… aka "WWF No Way Out" – USA (poster title)
85. King of the Ring (1999) (TV) …. The Rock
… aka "WWF King of the Ring" – USA (alternative title)
86. WWF Backlash (1999) (TV) …. The Rock
87. WWF Attitude (1999) (VG) (voice) …. The Rock
88. WrestleMania XV (1999) (TV) …. The Rock
… aka "WrestleMania XV: The Ragin' Climax" – USA (alternative title)
89. "The Net" …. Brody (1 episode, 1999)
– Last Man Standing (1999) TV episode (as Dwayne 'The Rock' Johnson) …. Brody
90. "That '70s Show" …. Rocky Johnson (1 episode, 1999)
– That Wrestling Show (1999) TV episode (as The Rock) …. Rocky Johnson
91. WWF St. Valentine's Day Massacre (1999) (TV) …. The Rock
92. WWF Royal Rumble: No Chance in Hell (1999) (TV) …. The Rock
… aka "Royal Rumble" – (original title)
93. WWF Rock Bottom: In Your House (1998) (TV) …. The Rock
… aka "WWF Rock Bottom" – USA (promotional title)
94. Survivor Series (1998) (V) …. The Rock
… aka "WWF Survivor Series" – USA (promotional title)
… aka "WWF Survivor Series: Deadly Game" – USA (alternative title)
95. WWF Judgment Day (1998) (V) …. The Rock
96. WWF Break Down (1998) (TV) …. Rocky Maivia
… aka "WWF Breakdown: In Your House" – Canada (original title)
97. WWF Mayhem in Manchester (1998) (TV) …. The Rock
98. Summerslam (1998) (TV) …. The Rock
… aka "WWF Summerslam: Highway to Hell" – USA (alternative title)
99. WWF Warzone (1998) (VG) (voice) …. The Rock
100. Fully Loaded (1998) (TV) …. The Rock
… aka "WWF Fully Loaded" – USA (poster title)
101. King of the Ring (1998) (TV) (as Rocky Maivia) …. Rocky Maivia
… aka "WWF King of the Ring" – USA (alternative title)
… aka "WWF King of the Ring: Off with Their Heads" – USA (alternative title)
102. WWF Over the Edge (1998) (TV) …. Rocky Maivia
… aka "WWF in Your House: Over the Edge" – USA (poster title)
103. WWF Unforgiven (1998) (TV) …. Rocky Maivia
104. WrestleMania XIV (1998) (TV) …. Rocky Maivia
… aka "WWF WrestleMania XIV" – USA (alternative title)
… aka "WWF WrestleMania XIV: DX-Raided" – USA (alternative title)
105. No Way Out (1998) (TV) …. The Rock
… aka "WWF No Way Out of Texas" – USA (alternative title)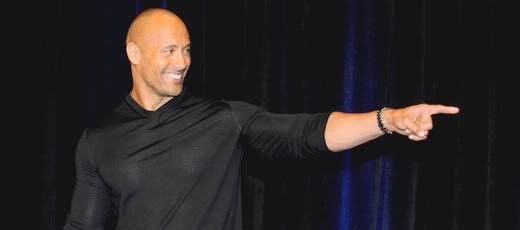 106. Royal Rumble (1998) (TV) …. Rocky Maivia
… aka "WWF Royal Rumble" – USA (alternative title)
… aka "WWF Royal Rumble: Pain! Just a 4 Letter Word" – USA (alternative title)
107. WWF Capital Carnage (1998) (TV) …. The Rock
108. WWF in Your House: D-Generation-X (1997) (TV) …. Rocky Maivia
… aka "D-Generation X: In Your House" – USA (promotional title)
… aka "WWF in Your House 19" – USA (alternative title)
109. WWF Survivor Series: Gang Rulz (1997) (TV) …. Rocky Maivia
… aka "Survivor Series" – Canada (original title)
… aka "WWF Survivor Series" – Canada (English title) (promotional title)
110. WWF in Your House: Badd Blood (1997) (TV) …. Rocky Maivia
… aka "WWF Badd Blood" – USA (promotional title)
… aka "WWF Rampage '97" – USA (alternative title)
… aka "WWF in Your House 18" – USA (alternative title)
111. WWF in Your House: Ground Zero (1997) (TV) …. Rocky Maivia
… aka "WWF in Your House 17" – USA (alternative title)
112. WWF in Your House: A Cold Day in Hell (1997) (TV) …. Rocky Maivia
… aka "WWF in Your House 15" – USA (alternative title)
113. WWF WrestleFest '97 (1997) (TV) …. Rocky Maivia
… aka "WWF in Your House: Revenge of the Taker" – USA (original title)
… aka "WWF in Your House 14" – USA (alternative title)
114. WrestleMania 13 (1997) (TV) …. Rocky Maivia
115. WWF Slammy Awards 1997 (1997) (V) …. Rocky Maivia
116. "WWF Monday Night RAW" …. Rocky Maivia (2 episodes, 1996-1997)
– Episode #5.9 (1997) TV episode …. Rocky Maivia
– Episode dated 25 November 1996 (1996) TV episode …. Rocky Maivia
117. WWF in Your House: Final Four (1997) (TV) …. Rocky Maivia
… aka "WWF in Your House 13" – USA (alternative title)
118. Royal Rumble (1997) (TV) …. Rocky Maivia
119. WWF in Your House: It's Time (1996) (TV) …. Rocky Maivia
… aka "WWF in Your House 12" – USA (promotional title)
120. Survivor Series (1996) (TV) …. Rocky Maivia
… aka "WWF Survivor Series" – USA (promotional title)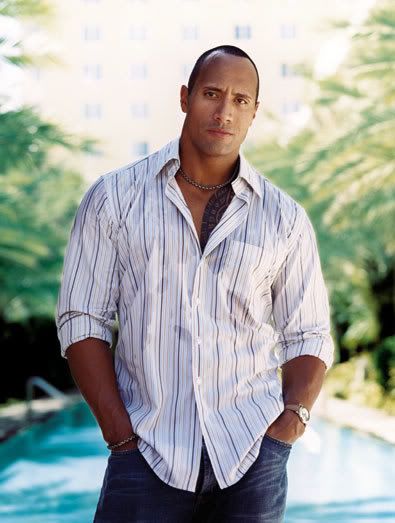 1. Racing Dreams (2009) (executive producer)
Dwayne Johnson @ imdb.com
Official DJ Facebook
Dwayne Johnson @ WhoSay
The Rock Foundation