New Picture This Challenge!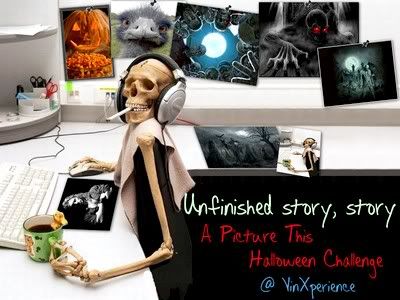 We've all been there.
A movie ending missed when the best friend called. The perfect cookie recipe missing the last 2 ingredients because someone ripped a coupon out of the magazine. That incredible tale of love and lust you were eavesdropping on, until the bus got to your stop. A riveting fan fic you have been following for weeks when suddenly Nothing. No updates. No clues. Oh the frustration of pleasures incomplete. Was it writer's block? Did the author move to parts unknown where internet is only a rumor? Or was it something…
else?
Well, now is your chance to recreate those feelings of frustration and longing – on purpose. Choose one or more of the Challenge pictures and give us your best Unfinished Story, Story. A minimum of 250 words, write the beginning, the middle but no end! There is no vote, no prize. Just the satisfaction of leaving your faithful readers wailing uncontrollably because they want more.