The Ropes (2011)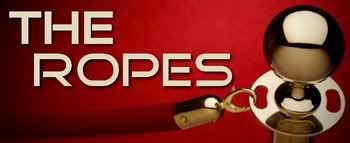 THE ROPES
Series Directed by
Frank E. Flowers (3 episodes, 2012)
Cisely Saldana (1 episode, 2011-2012)
Series Writing credits
Joe Ballarini (2 episodes, 2012)
Vin Diesel (2 episodes, 2012)
Adam Lazarre-White (2 episodes, 2012)
Hernany Perla (2 episodes, 2012)
Michael B. Silver (2 episodes, 2012)
Series Produced by
Frank E. Flowers…. co-executive producer
Raul Celaya …. associate producer
Vin Diesel …. executive producer
Samantha Vincent…. executive producer
Series Original Music by
Jeff Rona ~ to listen to the soundtrack visit his site: Jeff Rona – The Ropes
Series Cinematography by
Andrew Huebscher
Distributors
Fox Interactive (2011) (worldwide) (all media)
~~~
via variety.com /Tue., Feb. 22, 2011
Vin Diesel takes on 'Ropes'
One Race, Fox Digital to produce web series
By Jeff Sneider
Vin Diesel's One Race Films is teaming with Fox Digital Entertainment to produce "The Ropes," an original Web series about the lives of bouncers.
Diesel and Samantha Vincent are producing the series, which is based on the actor's experiences working the door.
Producers plan to create 18 seven-minute episodes, the first of which Diesel has already written. While no actors are currently attached, the thesp is expected to make an appearance.
Low-budget production will look to cast unknown actors as well as former bouncers for an authentic feel.
One Race began developing the project with Fox Digital Entertainment because Diesel's company has been seeking material for his more than 20 million Facebook fans.
Producers have not yet set a start date or location for the production.
*************
Vinbook, 24 March 2011
It has been two years since I directed Los Bandoleros… and the opportunity to get back behind the camera was exciting.

For the past weeks, I have been directing The Ropes… a contemporary homage to my many years as a New York bouncer in the night club world.

What I love the most about this directorial process, is the celebrating of new talent… and wait until I introduce the talent.
~~~
via http://www.echosworld.com/ June 17th, 2011
A behind the scenes video put together for the promo photo shoot for the NEW VIN DIESEL web series THE ROPES. Photographer and also cast of the show. Shawn Woods
>>> more info here @ VinXperience
>>> The Ropes pictures @ Vin Diesel Gallery
>>>The Ropes @ imdb.com