ORGFF – 2010 Summer Intensive Graduation
Friday, June 25th, 2010, this year's graduation of the One Race Global Film Foundation Summer Intensive Institute took place in St. Domingo, DR, marking the 5th anniversary of this wonderful initiative founded by Vin Diesel.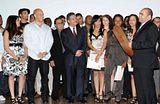 For the first time students from all over the world took part. Objective of this year's class, called  "Global Filmmaking for Peace and Development", was not only to teach them on the subject of filming, but also on resolving conflicts.
We gathered some additional info and pics, so if you're interested: have a look at them at the VinXperience board!