04/12 The Chronicles of Riddick – Dead Man Stalking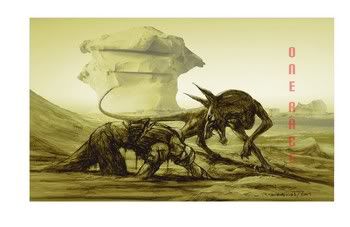 Coronacomingattractions.com revealed a first exclusive script review of the new Riddick movie!
Here is a short excerpt from the article:
The Riddick seen in Dead Man Stalking has trimmed off the fat of Chronicles and bulked himself up better than even his Pitch Black days. Shortly after Riddick finds his world fucked once again Twohy has the character say a line which encapsulates what went wrong with Riddick these past two movies and to put him in his current situation: he got civilized. He began to care too much about the people whose lives crossed his path. Well, what's caring too much to Riddick is different than you and me, but the point is made clear to the anti-hero: he's got to return back to being a predator, the baddest asshole in the universe, if he's to survive the trials in Dead Man Stalking — and Hollywood. Back to basics. Back to killing.
…
There's one more thing that I'm going to say about this third appearance of Riddick, and it's that we truly get to see how scary smart he is when hunting human prey. There's bits of it in Pitch Black, like when he cuts the hair from the back of the head of the pilot and in Chronicles when he escapes from the UV planet and Crematoria but in Dead Man Stalking it's pretty much full-on hunter Riddick for about two acts of the movie. Twohy sets up several scenes which shows us how crafty and deadly Riddick is at the top of his game, and to the mercs. When fitted to the unrestrained language and action rating level, this is why Dead Man Stalking has potential to be the setting stone for any follow-up sequels. And Twohy does set it up for a fourth Chronicles; there are mysteries that lay beyond the planet that Riddick is stranded on and with his past, his homeland of Furya, and why he keeps seeing visions of a woman asking him to come back home for the end fight.
…
Join the discussion and share your opinion in Riddick-Verse at VinXperience!
.

.
[ad#Google Adsense 234*60]