01/18 Vin goes Haiti, Twohy talks Riddick
Vin is currently in Port-au-Prince on a rescue mission, trying to help the Haitians recover from the horrible tragedy they still have to suffer through.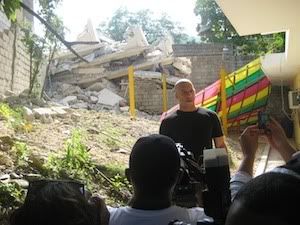 Click here to check out his Vinbook posts on this subject if you've missed them, and here to catch up with the media reports. Thanks to Lynn and Jibarita!
Riddick News
In an interview with The Filmstage, director David Twohy played hide and seek when asked about a Riddick sequel. Here's what he got to say:
"Yes, there is an update on Riddick. Yes, we did scout New Zealand. And yes, I'm being intentionally coy."
Drop your comments here!
Maintenance
As most of you have noticed by now, we have the beloved shoutbox back and had a couple of other MODs installed along the way as well. The signature MOD is having a few quirks presently. For the time being, if you want to have your sig added to your post, make sure you tick the "Show Signature" box in either the quick reply box or under "Additional Options" when composing your replies. We're still working on it.
Extra special thanks to F.L.A.M.E.R who is of invaluable help to us battling with the board software!
[ad#Google Adsense 234*60]