… Feliz Navidad, Joyeux Noël, Καλά Χριστούγεννα, Buon Natale,
圣诞快乐, Glædelig Jul, Mele Kalikimaka, Prettig kerstfeest,
Feliz Natal, Kellemes karácsonyi ünnepeket, Quvianagli Anaiyyuniqpaliqsi,
Meri Kirihimete, Geseënde Kersfees, Fröhliche Weihnachten
and a big thank you for the donations to all our lovely VXers!

The VinXperience Team would like to thank you folks for participating at our forum,
our writers for sharing their wonderful stories,
the Facebookers for liking and visiting us,
the Twitter peeps for following us,
our generous members and friends for donating to keep us online
and last but not least everybody for sticking with us yet another year!
Merry Christmas and a most wonderful New Year
with plenty of Vin news, pictures and movies!

What has been your favourite or the most surprising Christmas present you have ever received?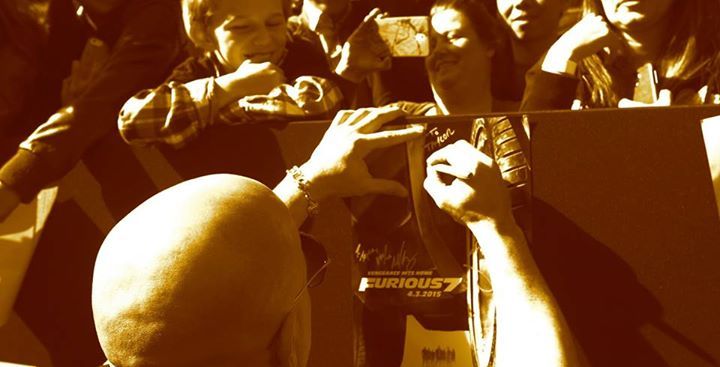 Something special happened at the world's first red carpet event for the F7 trailer release… a kid who had traveled far, just to be there that Saturday morning, actually gave me a gift.

It was a little blue toy car… he said it was Paul's car… naturally that moved me. Then he said with a kind of profound wisdom… "He is with you Dom… keep going."
Vin Diesel/Vinbook 19Dec2014
Again many thanks to NorthernLights for yet another great question!


You spent hours fighting the crowds at the mall and you are tired and grumpy.
As you exit your parking spot, you hit the car parked next to you.
Do you have enough Christmas spirit left to report the accident or do you Grinch out and leave the scene hoping no one got your license plate number?

Have you told your partner about all of your past relationships? If not, what are you hiding?


With winter upon us and snow storms hitting America, are you prepared for a weather emergency?
What steps do you take to make sure you can survive extreme weather conditions?


Fast 8, Fast 9, Fast 10 ….
Check out the latest info on the Fast & Furious franchise!
We've collected some interesting info for you here @ VinXperience!
Many thanks to Northern Lights for this week's great question!



Santa can't make it this year! Which super hero is best suited to take his place?
-- commercial break ---
---